The Synergy Factor™
Unleash the Power of Your Workforce!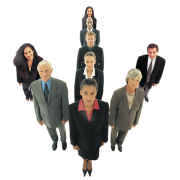 The Synergy Factor™ is a comprehensive methodology developed by People Resource Strategies to help your organization determine key elements of individual and group dynamics and enhance those elements through the use of a single, or multiple approaches to develop a more cohesive workforce. Borrowing a cliché – helping make sure your workforce is marching to the beat of the same drum!
What will The Synergy Factor™ Do for Your Company?
Identifying The Synergy Factor™ will allow your company to:
understand what core competencies fit your strategic goals and where the gaps are in your existing workforce
find the best candidates for hire through better job and culture fit
identify the inherent adaptability of your people and help maximize the potential in each individual by tapping into and further developing their full capabilities
Further, it helps understand the motivation levels in individuals and how to enhance performance levels through coaching and training
This is done by using a step-by-step process assessing individual strengths and potential and the impact each individual has on your organization. We look at culture and fit and adaptability of those individuals within your organization by using tools, such as assessments, coaching and development and succession planning.