Organization Development
Organizational Development ("OD") is a planned, top-down, organization wide effort to increase the organization's effectiveness. People Resource Strategies will help your company identify its OD objectives and then implement strategies to help you achieve those objectives through planned interventions at all levels of your staff. PRS recognizes that OD encompasses far more than human resource development. In a collaborative effort, we will help you identify those issues and concerns which are getting in the way of your company's performance and then design programs to help change the beliefs, attitudes, and values or your staff so that they are better able to adapt to the challenges of new markets and technologies.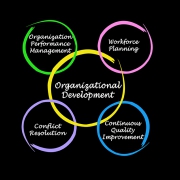 Sometimes this can involve individual departments and at other times it may involves several departments across the board that work together and need to develop seamless processes to work better together.
People Resource Strategies has developed a concept called The Synergy Factor™, which involves a systematic process of identifying the synergy in your organization based around your core competencies and company culture. We will identify processes and behaviors within your organization which "gets in the way" and develop processes that encourage a behaviorally healthy organization to help ensure your strategic goals are continually met.
Training
Training becomes another key component to effective organizational development since most often, in service organizations, people become the key components of the service the company provides its customers. Once the company's objectives have been identified and a plan has been developed, training can be provided in conjunction with individual coaching to help encourage healthy behaviors which ensure the company's successful growth.